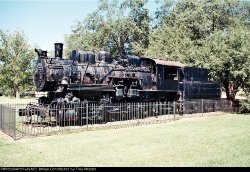 Welcome to the RRPictureArchives.NET contributor site of Trey Meador.

Hi, my name is Trey and welcome to my part of this site. I'm a novice railfan, as well as a model railroader. I model the Southern, Illinois Central and Illinois Central Gulf, Gulf, Mobile and Ohio, and other railroads which ran and run though Mississippi, where I grew up.

I try and take pictures of the things that not only help me as a modeler, but also anyone out there who does the same. Sometimes I get good angles in my photos, and sometimes I don't. I try to put up useful and clear pictures of details such as horns, antenna, stenciling, and other things I find interesting.

Right now I'm using two cameras, a Canon AE-1 35mm film SLR with a 28-90mm lens, or sometimes the stock 50mm lens. I shoot 100 and 200 ASA, which I'm still learning on exposure, f/stop, etc. The other is a Kodak M1033 digital point and shoot with 10 megapixel capability. I usually make videos with it while shooting stills with the Canon. I've also been playing around with the camera on my phone.




You may browse my collection of pictures via the menu located on the left hand side of the page. I hope you enjoy the collection and thanks for stopping by!